So the photo below has been making the rounds as far as saying "oh isn't that sweet and how could anyone thing bad of him" because Kundera-esque kitsch knows no bounds on both sides, and visuals are powerful mediums. The camera only shows one angle, one dimension and any picture can be worth a thousand words of propaganda. Besides, part of Politics 101 is kissing babies and posing with kids. Who the hell are we kidding?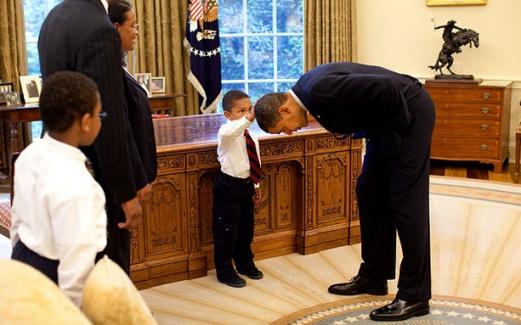 let's take a look at the rest of the world, shall we? Here's Enver Hoxha, Der Fuhrer, Lenin, Richard Nixon, Josef Stalin, Hugo Chavez, Everybody's Not-Favorite Pope, Mr. KGB, and Robert Mugabe. Oh it's so sweet. Who would ever think that any of these people did anything that wasn't nice and didn't Care A Lot?
and of course this:
It's a dirty job but someone's gotta do it, right Chuck?...